Scheer Signature Detailing is your ONE STOP shop for many things related to caring for your vehicle as well anything else we can apply our expertise to! We provide the highest possible level of in-house car care services, as well as third-party services such as paintless dent removal, window tinting, vinyl wraps, and bodyshop work. Not only do we provide expert car care services, we also provide detailing supplies and products to the public and local detailers that you can't find elsewhere!
Making your car look better than when it left the showroom floor, and keeping it that way!
Our expert car care services include regular maintenance, detailed cleaning, steam cleaning, exterior decontamination, paint correction to remove scratches/swirl marks, paint protection coatings and films, new car paint coatings, Headlight restoration, Complete meticulous interior leather and upholstery cleaning and detailing, Leather repair and re-coloring, upholstery repair, engine detailing, show car detailing and preparation, and much more! We are authorized installers for CarPro CQuartz FINEST!
We are an Authorized dealer for CarPro, 1Z Einszett, Colourlock, Adam's polishes, Microfiber Madness, Rupes, and more! Stop by and see how we can assist you with all your car care and leather needs!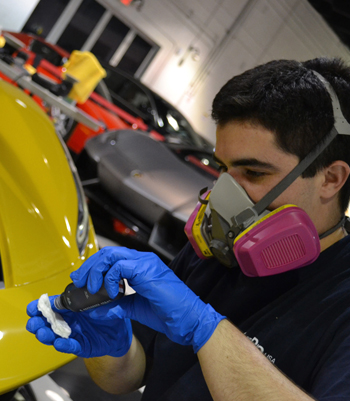 Scheer Signature Detailing started in 2006 out of Dominic Scheer's parents' garage. At the time he was only a sophomore in high school when Dominic began detailing cars. Over the years his business grew solely from word of mouth and from attending car shows and getting to know people in the local high-end automotive aftermarket.
Over the years, Scheer had worked with a few detailers, who have now gone on their own and have attempted to imitate the level of service Scheer had taught them. And in 2013, Scheer Signature Detailing moved to the first business location to be able to expand service offerings as well as retail professional-grade products to other local detailers and consumers alike! Give Scheer Signature Detailing a shot and we guarantee you won't be disappointed!